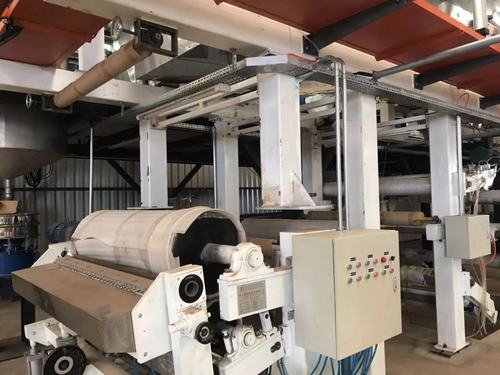 Product Description
coating 3070g/m²,design speed 80m/min .
2) Machine configuration:one set of hydraulic paper holder,two sets of blade
coater,6 groups of oven ,two sets of dry feed network,one set of double roll
soft calender,one set of variable frequency drive part,one set of winders,one
set of coating preparation, one set of rewinding machine.
2. The second chapter: Typical applications and features
1) Widely used in packaging and color printing like FedEx Pak, hand bags, wine
packages, shoe boxes, toothpaste boxes, cosmetics outer packaging or
whatever packaging the item may be suitable for.
2) Features: Single-side coated white have high whiteness coating is
exquisite ,coated surface is good in Ink absorbency, smoothness ,printing
gloss ,water-proof, etc. 3.The second chapter :Technical Requirements
Width of base paper: 2150mm
Width of net paper: 2100mm
Coating Weight: (max)3070g/m²
Solids Content:( max)60%
Design Speed: 80m/min
Yield Production: 30-45T/D(250g/m2)
Work Speed: 60-80m/min
Steam heating: 0.7Mpa
Pneumatic control: 0.8Mpa
Oven working temperature:120-150
Threading methods:Dry net automatic threading
Electric control:AC variable frequency drive distribution
4.The second chapter :Structure Description
2,Production process
(2.5m3 groups)Dry Network Feed—900Coherent states cylinder -Double
roll soft calender—Winders Machine-Rewinding Machine
QINGDAO JIERUIXIN MACHINERY AND TECHNOLOGY CO., LTD.
, which company is mainly working on paper coating machine, paper making machine and related technology. Through more than 10 years effort, Besides the machine self, we have our own chemist and prefer to supply chemical, formulation, technology and other suggestion to customers. Then our formulation will match our machines, and get the best quality paper for them. Now Our company had been one of the famous paper coating machine manufacturer in China and our coating machine and technology had been exported to Iran, Egypt, Mexico, Australia, India and etc.
Exhibition
Overseas projects
Our company establishes a cooperative relationship with Australia, Mexico, Egypt etc. Our engineers will help install and test the machine exported.
Our professional team usually go abroad to tell them how to use the equipment, and will supply technical support of your worker training.
Our Services
FAQ
Contact Us
Room 6-617, Building 1, No. 623, Jingcheng Road, Chengyang District, Qingdao, Shandong, 266109, China