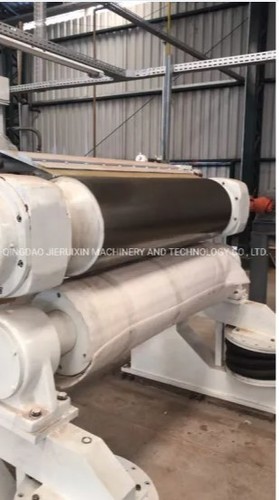 Hard Paper Calender
Price And Quantity
Set/Sets

15000.00 - 18000.00 USD ($)
Product Description
Single-nip Crown Controlled Hard Calender


Specifications


Roll width:2700mm

Net paper width:2600

Max linear pressure:200KN/M

Operating speed:200-500m/min

Paper type:culture paper
To meet the requirements of calendering and finishing paper sheets, the calendar is configured with multi-nip controllable hard roll and thermal oil heating chilled cast iron roll, constituting a nip. The upper roll is heating hard roll and lower roll is multi-nip controllable hard roll. The heating and hard roll of nip is configured with AC variable frequency motor, speed reducer with transmission shaft driving the roll to rotate;
The hard roll is added a pair of synchronous belt wheels in addition, based on the mentioned above transmission so as to eliminate vibration of gear transmission. The bottom roll compression and rapid roll release is performed by two plunger cylinders. According to the different requirements of linear pressure in the nip, the mid and high requirements in different nips of controllable hard roll, the canlendered paper sheets will have obvious finishing efficiency and high quality performances (including bulkiness and printing performances, etc) will be realized by adjusting oil pressure of piston cylinder with hydraulic valve and adjusting oil pressure in different nips of controllable hard rolls with pressure valve, changing linear pressure so as to adjust the smoothness of paper face in cross direction and two-sidedness of paper.
Mechanical part of mechanical body description
The body of Hard calender is composed of frame, a hot roll (hard roll) heated by conducting oil, a crown hard roll for multi-nips controlled by oil pressure ( controllable crown roll), two piston pressurized cylinders, a paper carrying roll with transmission, a removable multiple-joint chromium plating arc roll, a set of safety rod, a set removable scraper device of hard roll pressurized by pneumatic roller, photoelectric checking device, paper-carrying sheave groove furnished on the side of roll ( the buyer shall supply the distance between roll center to paper-carrying sheave), a set of hydraulic pump station (including oil pump device, pressure- maintaining system, a set of jacking pressure roll release, a set of controllable system, hydraulic manipulation platform)
Hydraulic control system
The soft calender has a set of hydraulic pump station and a set of hydraulic manipulation platform; the hydraulic system can control jacking piston cylinder in the nip to ascent rapidly and slowly as well as quick roll release; and meanwhile, it can control oil pressure of controllable soft roll in every nip, changing oil pressure of controllable small cylinder so as to change medium-high quantity of controllable roll. To guarantee normal operation for hydraulic system of soft calender, the oil pump made in American Vickers Company is used, the rest adopt domestic Lixin hydraulic parts with well-known brand.
Hot oil system
The soft calendar has a hot roll; the hot roll is heated with conducting oil, a hot roll is heated by 72kW oil furnace, sending conducting oil to hot roll to heat the surface then cycle back to oil furnace. The temperature of whole oil furnace can be controlled automatically. The pipes of oil furnace shall be self-supplied by users.
Scraper device of hard roll
During operation period, the soft calender will has some impurities (stickies and paper fibers, etc) sticking on the roll surface more or less. The machine is fixed with scraper device to clean roll surface. The movement of scraper shall be controlled by speed reduction motor, the compression and lifting of scraper will executed by pneumatic roller. Gas source shall be self-provided by users. The scraper is made of polymer material.
Lubrication system
Every calender bearing is supplied with lubricating oil by diluted oil station of paper machine and supplier shall not provide lubricating pump station. The self pipeline of equipment( within 5 meters) shall be equipped with the calendar.
Manipulation platform: a manipulation platform of hard calendar , a hydraulic manipulation platform ( controllable jacking speed, adjustable slow speed and adjustment of jacking pressure; pressure adjustment in every nip of controllable roll.
Lubricating oil, conducting oil and hydraulic oil shall self-provided by users.
Mechanical transmission parts: the canlender has four transmission points, soft roll is added a pair of synchronous belt wheels in addition, and driven by synchronous belt wheels. Master transmission point is composed of high-precision reducer with hard tooth surface, AC variable frequency motor and transmission shaft.
Electric control part: electric control part of master transmission of host machine shall be self-provided by buyers and electric control of auxiliary transmission shall be provided by the seller.
Trade Information
Qingdao,China

60 -10000 Per Year
Contact us for information regarding our sample policy

customized
Contact Us
Room 1030, time center, Zhengyang Middle Road, Chengyang District, Qingdao, Shandong, 266109, China
Phone :86--13969628455